Try Stitch Fix for £10 – personal styling for women & men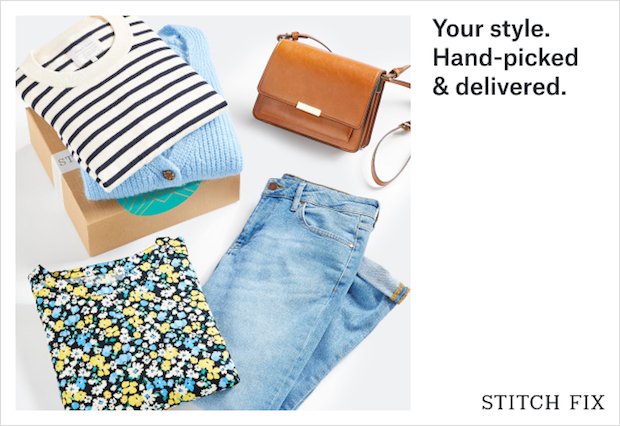 Leave your wardrobe in the hands of stylish professionals.
Stitch Fix is a unique service that helps connect men and women with new, stylish clothing. Stitch Fix curate and deliver looks and styles for you based on your personal preference. Purchase the items you love and return any that you don't.
How Stitchfix works:
– Tell Stitch Fix your preferred styles, sizes and price range
– For a £10 styling fee your personal Stitch Fix stylist selects garments to send to you
– Try on items at home and only pay for what you like
– Redeem the £10 against anything you decide to keep
– Return easily with free returns & exchanges
The Female Form Through Time
An online exhibition in association with Google Arts & Culture - click here to view. The Female Form Though Time examines how women have been artificially changing the shape of their bodies for centuries to follow fashion, through Discovery Museum's Costume collection. Body sculpting undergarments, padding and optical…
Thu 30 Jun
Prices to be confirmed / 0191 232 6789
Fri 1 Jul
Prices to be confirmed / 0191 232 6789
Sat 2 Jul
Prices to be confirmed / 0191 232 6789
…and 55 more dates until 26 Aug
Free-Motion Embroidery

A workshop in free-motion embroidery. Basic sewing machine skills are required.
Girls Just Wanna Have Fun

Musical comedy show about four girls on an evening out and exploring issues around modern womanhood, set to a soundtrack of classic pop anthems.
Friday Forum: Bags - Style, Statement, Sustainability
Inspired by the V&A's 'Bags: Inside Out' exhibition, we are bringing together designers, curators and fashion historians for a day of talks investigating our longstanding fascination with bags of all stripes. Go in-depth on the historical shapes, the timeless craft, and the shifting political significances and join…
Terms & conditions
Stitch Fix requires no subscription . Try Stitch Fix once or set up automatic deliveries.