This page contains one or more affiliate links. If you follow one of these links, and make a purchase, we receive a commission.
Try your first SimplyCook box for free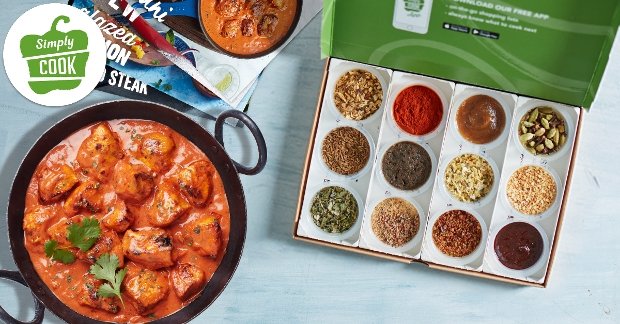 Pay just £1 for postage and try your first SimplyCook box for free
SimplyCook offer kits with a range of global cuisines that help you transform your midweek meals into restaurant-quality gourmet experiences. Try your first recipe kit for free and pay just £1 for postage.
Expand your palette and choose from a huge variety of meals from cuisines around the world including Cuban Prawn Pasta, Vietnamese Pork, Japanese Seared Steak, Wild Mushroom Penne, Louisiana Linguine and many more.
It's a hassle-free subscription - just head over to SimplyCook and select your four delicious recipes. Wait for your box with step-by-step recipe cards to be delivered, follow the recipe and enjoy your quality meal in as little as 20 minutes. Change, pause or cancel your subscription at any time.
Why SimplyCook?
- Authentic recipes using hand-picked flavours blended by expert chefs
- Easy to follow 15-20 minute recipes
- Chef-inspired recipe kits
- Range of global cuisines
Go to SimplyCook and get your first box for free with £1 postage.
Terms & conditions
By signing up to this first free box with £1 postage, you will be automatically signed up to a £9.99 subscription to SimplyCook You can change or cancel your subscription in the "Manage Subscription" section of the SimplyCook website. You can cancel your subscription seven days after ordering your first box. This offer is valid for new customers only. One free box per household. Cannot be combined with any other offer. UK delivery only, including Northern Ireland, excludes delivery to the Channel Islands. For full terms and conditions, visit https://www.simplycook.com/terms-and-conditions