This page contains one or more affiliate links. If you follow one of these links, and make a purchase, we receive a commission.
Get 30% off your first greeting card order at Moonpig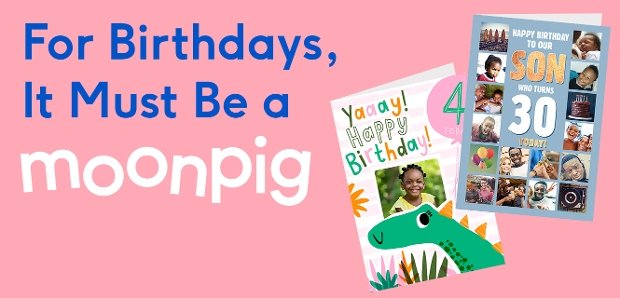 Celebrate birthdays and other occasions with personalised and trend-setting greeting cards
Moonpig are dedicated to helping you celebrate all of life's sentimental moments. Whether it's a birthday, anniversary, new job or engagement, there's no better way to mark the occasion with a hand-picked or personalised card from Moonpig.
This year, they're offering all new customers 30% off their range of greeting cards. Simply head over to the Moonpig site, select your card and use the code NC30CARD at the checkout to redeem your discount.
Go one step extra and send your loved one a personalised greeting card for a meaningful touch. Choose one special photo to decorate your card or create a whole collage and send it straight to their door. Use the code NC30CARD to get a 30% discount on your first Moonpig greeting card order.
Terms & conditions
Please note that separate voucher codes cannot be combined within the same transaction. If you are using more than one voucher code, they must be redeemed via separate transactions.* 30% OFF CARDS FOR NEW CUSTOMERS ONLY The offer is applicable on all cards. This offer is available for new Moonpig customers only. When the customer has a card in their shopping basket, they will need to add the voucher code in the section beneath the check-out button that says 'Got a voucher code' and click 'apply' to receive the discount. The offer is limited to a single purchase. All delivery or postage charges are not included in the offer and will be purchased by the customer. The offer cannot be used in conjunction with any other offer discounts or bulk discount. If the items in your shopping basket qualify for more than one offer, the most beneficial discount for you will be applied. Moonpig reserves the right to cancel, change or extend the offer at any given time. Promotions cannot be back dated or applied retrospectively to orders already placed.