National Museum of Scotland
We're Good to Go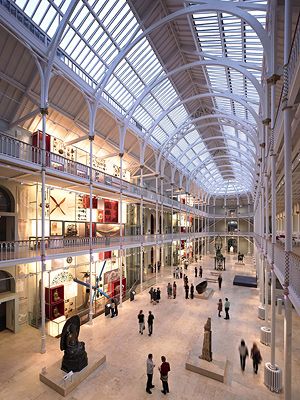 Covid-19 precautions
A range of safety measures are in place in line with Scottish Government guidelines. This includes face coverings, enhanced cleaning, sneeze screens, and hand sanitising stations. Please do not visit the museum if you or anyone in your household has any symptoms of Coronavirus.
We want you to have a safe and enjoyable visit. During your visit, we ask you to:
Wear a face covering in our indoor spaces.
Please keep your distance from others.
Use the hand sanitiser provided.
Please note card payments preferred.
Wash your hands often.
Any questions? Our Visitor Experience team will be delighted to help.
Last updated: 1 November 2021
In its landmark building, occupying more than half of Chambers Street, the National Museum of Scotland was formerly two different museums – the Royal Museum, built in 1861, and the more modern Museum of Scotland, completed in 1998. The facilities were unified in April 2008, although there is still a definite thematic separation: the former Royal Museum (complete with its grand Victorian Hall) has a worldwide and natural history focus, while the newer building maintains a distinctly Scottish viewpoint. Between the two is an interactive technology zone, filled with exhibits that form an easy connection between education and fun for children. They can race in a Formula 1 simulation, operate robotic arms and moon buggies, and discover the science behind solar and rock power. Dolly the Sheep also inhabits this space, as does the full-size Wylam Dilly locomotive. At the top of the spherical sandstone tower at the George IV Bridge end of the building is the Tower Restaurant, which has made a name for itself as a fantastic example of fine dining in the capital.
Fire your imagination at the National Museum of Scotland, one of the UK's top 10 visitor attractions. Our diverse collections take you on a journey of discovery through the history of Scotland, the wonders of nature and world cultures – all under one roof.
From meteorites to monsters from the deep, our Natural World galleries tell the story of our planet, while our World Cultures galleries link people and possessions across the globe. Follow the story of Scotland from prehistory to the present day in our Scottish galleries, marvel at a spectacular array of over 800 objects in our Window on the World and meet the Scots whose ideas, innovations and leadership took them across the world in our Discoveries gallery.
Please note: spaces with a high number of interactive displays and high-touch areas, such as the Imagine, Explore and Adventure Planet galleries, are temporarily closed for your safety.
Text supplied by third party.
Events at this venue
Sorted by date & time / title
Whilst every effort has been made to ensure the information displayed here is accurate, always check with the venue before attending (especially during the Covid-19 pandemic).