Byre Theatre
With a 216 seat auditorium, a 100 seat studio theatre and full cinematic, theatrical and conference facilities, the Byre Theatre is a strong cultural hub in North East Fife.
Originally founded in 1933, the building has seen many changes over the years, and in 2013 it went into administration and ceased hosting performances.
In 2014, The University of St Andrews announced that the theatre was to reopen under the management of the University, with the building to be used as a theatre, educational resource, general arts venue and music centre.
Events at this venue
There are 5 events at this location
Sorted by title / date & time
Whilst every effort has been made to ensure the information displayed here is accurate, always check with the venue before attending (especially during the Covid-19 pandemic).
Byre Panto 2022: SNOW WHITE

Welcome to Fantasia, a pantosphere like no other where Snow White and her pals have to come up with a plan to halt the Queen's evil plans and save a certain handsome prince. But those apples can be pretty tempting… so who's got the strength to beat destiny? Expect songs, excellent jokes (maybe some groans) and lots of fun…
Thu 1 Dec
Fri 2 Dec
Sat 3 Dec
…and 28 more dates until 31 Dec
James Yorkston's Tae Sup Wi' A Fifer

Join us for a club night hosted and programmed by one of Fife's finest, James Yorkston. Now, with live music back again at last, Tae Sup wi' A Fifer returns with its unique mix of folk, rock, indie and spoken word from some of the most interesting artists in Scotland today, all hosted by James. Get to know the artists…
National Theatre Live: Prima Facie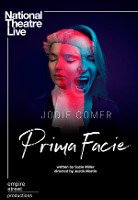 Directed by: Justin Martin
Cast: Jodie Comer
Jodie Comer (Killing Eve) makes her West End debut in the UK premiere of Suzie Miller's award-winning play. Tessa is a young, brilliant barrister. She has worked her way up from working class origins to be at the top of her game; defending; cross examining and winning. An unexpected event forces her to confront the lines…
Thunderstruck

David Colvin Thunderstruck is an international award-winning production concerning the legacy and mythology of a Pitlochry bin man, who flew beyond the summit of his art and changed Scottish music forever by defying established tradition and pushing to the absolute edge of what was possible. Take whatever romantic notions…
Ventoux

Ventoux, presented here by 2Magpies, tells the differing life stories of Marco Pantani and Lance Armstrong during the 2000 Tour de France.