Abbotsford
Whilst every effort has been made to ensure the information displayed here is accurate, always check with the venue before attending (especially during the Covid-19 pandemic).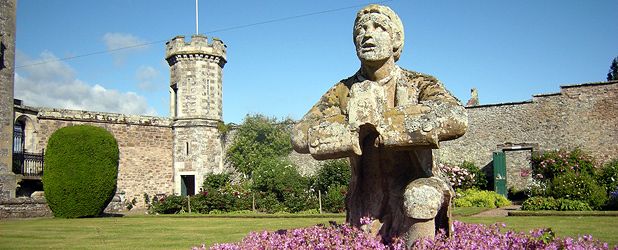 The gardens and landscape of Abbotsford are the creation of Sir Walter Scott and were developed from scratch between 1811 and 1825. While Scott is justly famed world wide as Scotland's most successful and prolific author, his surmounting interest, which gave him the most pleasure, was gardening.
At Abbotsford, Sir Walter assembled an estate by various land purchases, created enclosed gardens and parkland to compliment the house, and laid out the largely unimproved land to form an extended wooded agricultural landscape, that remains uniquely adapted to its Tweedside setting. Historic Scotland have classified the landscape and gardens created by Scott as as of outstanding aesthetic, scenic and architectural importance and, as the creation of Scott, of international significance. Scott wrote on tree planting and landscape gardening and kept detailed records of his landscaping at Abbotsford, all of which add significantly to the historical value of the Abbotsford Estate. His landscape design at Abbotsford influenced many of his peers and neighbours, informing garden design across the UK.
The Abbotsford Visitor Reception Building is due to open in April 2012. This fully accessible facility will be free to enter with plentiful car parking and will be home to our newly designed Gift Shop, Exhibition on Sir Walter Scott and Cafe.
The Historic House at Abbotsford will be closed for essential restoration work throughout 2012.
Text supplied by third party.