Aberdeen Art Gallery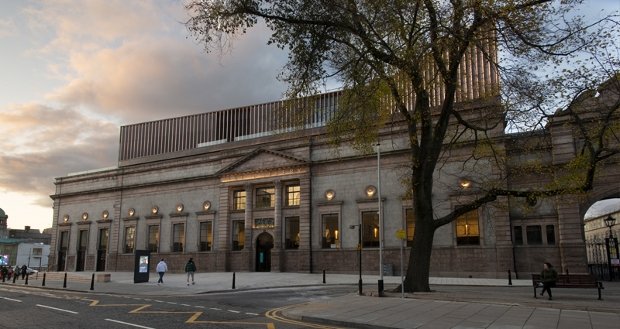 Aberdeen Art Gallery was established in 1884, in a purpose built building by architect Alexander Marshall Mackenzie. It underwent a major renovation from 2015-2019 led by Hoskins Architects. It saw a new dome to the main gallery, a widened balcony in the Memorial Court, which was opened in 1925 by King George V in memory of those killed in the Great War, re-establishment of the link to Cowdray Hall, and upgrading all the galleries. The McBey Library at the rear of the gallery also benefitted from the renewal programme.
The institution developed a notable modern and contemporary collection including works by Paul Nash, Iain McKenzie Smith, Francis Bacon, Ben Nicholson, Winifred Nicholson, Gwen John, Ken Currie, Gilbert & George, Ivor Abrahams, Bridget Riley and Bruce McLean. Earlier centuries are represented by Henry Raeburn, William Hogarth, Allan Ramsay and Joshua Reynolds.
There is a cafe on the ground floor.
Harriet St provides the nearest car park.
We are immensely proud to have been announced as a winner of Art Fund Museum of the Year 2020, the most prestigious museum prize in the world.
Aberdeen Art Gallery is home to one of the finest collections in the country.
From Brueghel to Borland, Landseer to Lambie and from Guthrie to Gibb, Aberdeen Art Gallery's collection spans over 700 years and includes a staggering range of works by artists, designers and makers. For over 130 years we have been acquiring the best and most interesting contemporary artworks. Today this Recognised Collection of National Significance is regarded as one of the UK's finest. We are proud to care for these treasures on behalf of the people of Aberdeen and to share their stories with all our visitors.
The Building Designed in the neo-classical style by Alexander Marshall Mackenzie, Aberdeen Art Gallery opened in 1885. It was extended in the 1920s with the addition of the Cowdray Hall concert venue, the interior Remembrance Hall and the exterior Cenotaph, all by the original architect. Discover more about the Art Gallery's history, and what we collect and why here.
Re-vitalised, re-born Between 2015 and 2019 the Art Gallery underwent a once-in-a-lifetime redevelopment supported by Aberdeen City Council and the National lottery Heritage Fund and led by Hoskins Architects. With more treasures on display and vastly improved visitor facilities Aberdeen Art Gallery, which includes the Cowdray Hall concert venue and the Remembrance Hall, is a must-see on any visit to the city.
Text supplied by third party.
Events at this venue
Sorted by date & time / title
Whilst every effort has been made to ensure the information displayed here is accurate, always check with the venue before attending.