Bishop Auckland Town Hall
Bishop Auckland Town Hall
Market Place
,
Bishop Auckland
,
England
,
DL14 7NP
Box office

03000 269524

General enquiries

03000 269524

Email
Photo of Bishop Auckland Town Hall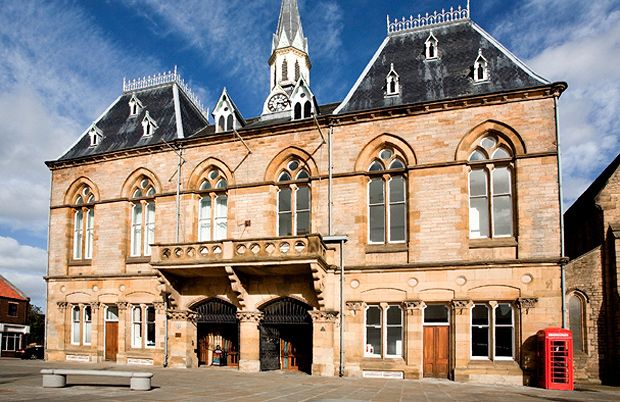 Although plans for a major cinema in Bishop Auckland are still in the pipeline, the Town Hall regularly screens films in its Eden Theatre.
Events at this venue
There are 5 events at this location
Sorted by title / date & time
Whilst every effort has been made to ensure the information displayed here is accurate, always check with the venue before attending (especially during the Covid-19 pandemic).
Classic Clapton

A recreation of Clapton's stage show and greatest hits, including his work as part of a succession of bands and as a solo artist.
Hilarity Bites Comedy Club ft. Maff Brown & Carl Hutchinson

Maff Brown - "Want an all out laugh-fest with gags-a-plenty? Maff is your man. A few months back I saw him tear the roof off, generating more joy, more laughter than any arena-selling comedian" - GQ
Fri 18 Nov
Hilarity Bites Comedy Club ft. Martin Mor & Ross Leslie

Martin Mor - "Martin is the act that has influenced me the most, the UK comedy circuit would not be the same without him" - Frankie Boyle. "Extremely funny" - Peter Kay
Fri 23 Sep
Hilarity Bites Comedy Club ft. Paul 'Silky' White & Phil Chapman

Coming to Hilarity Bites at Bishop Auckland Town Hall on October 21st 2022: Hilarity Bites Comedy Club feat. Paul 'Silky' White, Phil Chapman, and host Lee Kyle Show details: Paul 'Silky' White - "…a very, very funny fella… just brilliant" - John Bishop Phil Chapman - "An instant hit" - Liverpool Echo Lee Kyle - "Had…
Fri 21 Oct
Hilarity Bites Comedy Club ft. Tom Houghton & Clayton Jones
Tom Houghton - "Please take my advice. Get a ticket today. Tomorrow may well be too late. A Star is Born" - ………. – One 4 Review
Fri 19 Aug