Fruitmarket
Not open to the public.
Covid-19 precautions
Please wear a face covering, unless you are exempt. This is for everyone's safety and the Fruitmarket is happy to provide face coverings to you when you arrive. You will need to submit your details to Check in Scotland on arrival.
Last updated: 28 October 2021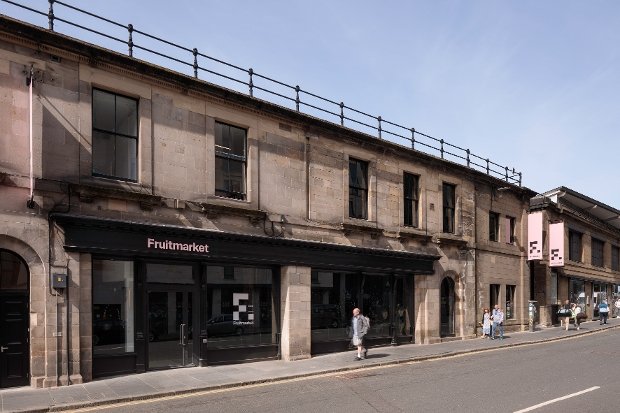 The Fruitmarket is closed for redevelopment until 2020, though the bookshop is operating as a pop up stall in Waverley Mall and can be accessed via Williams and Johnson Coffee Co.
Located behind Waverley train station, this world-class gallery showcases work by many of the leading names in contemporary art. An all-glass frontage allows passing pedestrians to observe the lower level of the gallery beyond the bookshop and café, and brings natural light to the top floor. The gallery's output includes exhibitions, commissions, interpretation, education and publishing in both print and electronic forms. Notable exhibitions include works by Lucy Skaer and Fred Tomaselli, and a retrospective of the Turner Prize-winning Glasgow artist Martin Creed.
A free, public space for culture in the heart of Edinburgh, the Fruitmarket provides inspiration and opportunity for artists and audiences.
We programme, develop and present world-class exhibitions, commissions, publications, performances, events and engagement activities, opening up the artistic process. Creativity makes space for meaning, and we create a welcoming space for people to think with contemporary art and culture in ways that are helpful to them – for free.
Text supplied by third party.
Events at this venue
There are 2 events at this location
Sorted by title / date & time
Whilst every effort has been made to ensure the information displayed here is accurate, always check with the venue before attending (especially during the Covid-19 pandemic).
BE United Presents: Live @ the Fringe
BE United Presents Live @ The Fringe is a series of exciting gigs – hosted as part of Scotland's Year of Stories – that showcase fresh Black Scottish artists of all genres. Expect killer line-ups at every show! This opening night show features the best Senegalese drummers found in Scotland, alongside incredible Afro House…
BE United Presents: Live @ the Fringe
BE United Presents Live @ The Fringe is a series of exciting gigs – hosted as part of Scotland's Year of Stories – that showcase fresh Black Scottish artists of all genres. Expect killer line-ups at every show! This second show features an all-female musical line-up – talented upcoming singer-songwriter AiiTee, new…