St George's Bristol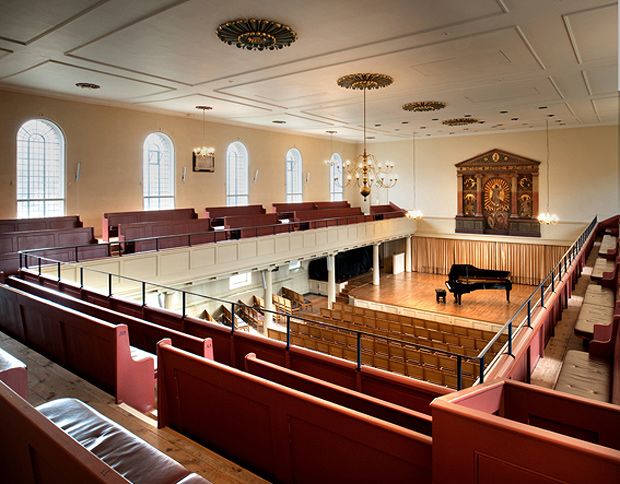 St George's is a former church building and one of the country's leading concert halls. The programme featuress a wide range of musical genres including classical, jazz, blues, folk and world music as well as family concerts and talks.
Access is via Great George Street for the box office entrance and Charlotte Street for dedicated disabled access.
The venue is accessible by First Bus services 1, 8, 9 and 54. There are metered car parking spaces on Trenchard Street, Berkeley Place, College Street, Frog Lane and Millenium Square and bicycle racks at the Great George Street entrance.
Events at this venue
There are 13 events at this location
Sorted by title / date & time
Whilst every effort has been made to ensure the information displayed here is accurate, always check with the venue before attending (especially during the Covid-19 pandemic).
Al Stewart

The Glasgow-born singer-songwriter performs acoustic versions of his back catalogue.
Beth Orton

The wispy songstress plays material from Kidsticks.
Wed 12 Oct
£28–£31.36 / 0845 402 4001
Chris Thile

MacArthur Fellow and Grammy Award-winning mandolinist, singer, songwriter Chris Thile, who the Guardian calls 'that rare being: an all-round musician who can settle into any style, from bluegrass to classical' and NPR calls a 'genre-defying musical genius', is a founding member of the critically acclaimed bands Punch…
Glenn Tilbrook

Solo show from the former Squeeze frontman.
Jamie Lawson

The English singer-songwriter performs his pop originals.
Wed 15 Mar 2023
Cancelled / 0845 402 4001
Loudon Wainwright III: All in a Family

An evening of song, music and funny stories from Grammy award winner Loudon Wainwright III, his former partner Suzzy Roche and their daughter, Lucy Wainwright Roche.
The Residents - 50th Anniversary Tour
The Residents are pleased to announce their 50th Anniversary Dog Stab!' tour focusing on the band's iconic DUCK STAB! album alongside songs from the group's latest album Metal Meat and Bone. This most elusive of bands will perform material from their classic period and gloriously celebrate their odd and improbable FIFTY…
Ricky Ross

DF Concerts presents Ricky Ross plus special guests Ricky Ross, songwriter and lead singer for Deacon Blue, follows the release of 2020's City Of Love, the band's most successful album in 25 years, with a solo album and tour, Short Stories Vol. 2, alongside his autobiography, Walking Back Home. In his memoir, Ross…
Roy Ayers

The godfather of neo-soul, known for his cool-vibe breaks and punchy funk baselines.
Tue 20 Sep
Prices to be confirmed / 0845 402 4001
Seth Lakeman

Seth Bernard Lakeman is an English folk singer, songwriter, and multi-instrumentalist, from Devon, who is most often associated with the fiddle and tenor guitar, but also plays the viola and banjo.
Turin Brakes

The acoustic guitar-toting English duo take some new tunes on the road, along with their decade-strong back catalogue in tow.
Vonda Shepard

Known for appearances, performances and musical accompaniment to Ally McBeal and top 10 single (and show theme) 'Searching My Soul'. Now on her 14th album, Shepard performs new songs and back catalogue classics.
Welcome to Night Vale

A podcast in the style of community news for the small desert town of Night Vale. Shows are written by Joseph Fink and Jeffrey Cranor and presented by Cecil Baldwin.
Wed 28 Sep
£0–£68.40 / 0845 402 4001